GHG Emissions
Significance
Climate change is an issue having an effect on sustainable development and human well-being. Therefore, it has become the global issue pulling collaborations across the world to reduce the GHG emissions and alleviate its impacts.  Many countries have jointly set the common goals to reduce GHG emissions in order to control an increase of the earth's average temperature to well below two degrees Celsius.  Consequently, policies and laws have been put in place to promote the GHG emission reductions in many countries, including the People's Republic of China, such as the Emission Trading Scheme (ETS), and the fuel consumption restrictions for energy production.
Major activities causing the GHG emissions conducted by BPP are summarized as following:
Direct GHG Emissions (Scope 1)
Indirect GHG Emissions (Scope 2)

Utilizing coal and waste gases from the industrial factories as fuel to generate power, steam and heats.
Using diesels for igniting the boiler's combustions, heavy equipment, substitute power generators, internal transport vehicles, etc.
Consuming minimum gasoline for vehicles.
Making use of calcium carbonate (CaCO3

) for the air quality control system.

Using SF6 gases.

A purchase of electricity from external sources.
Management Approach
Due to its power and energy generation business, BPP has directly consumed fuels for energy productions.  As a result, the company has mainly focused on operations to reduce the direct GHG emissions (Scope 1) resulted from various fuel consumptions.  BPP's direct GHG emissions released from using various fuels, are accountable for 99% of its total GHG emissions since the company's business operations are the upstream business on generating power and other energy supplied for industrial and residential consumptions.
BPP sees the opportunities and capabilities to reduce the GHG by improving the energy utilization efficiency, reducing losses in the production process, conducting a study on alternative fuels in order to achieve its GHG reduction target. It is also seeking chances to invest in the renewable energy, energy technology and smart energy solutions in accordance with the Greener & Smarter strategy.
BPP has closely monitored policy changes and assessed risks associated with climate change in preparation for adapting itself to both physical, policy, and legal changes in several countries.  Therefore, the company has to adjust itself in various ways, for example, using the business continuity management system to assess risks, impacts and opportunities associated with changes in order to align with the Task Force on Climate-related Financial Disclosures (TCFD), including setting the carbon pricing as part of the investment consideration in various projects.
BPP has established working groups to supervise climate change operations as following: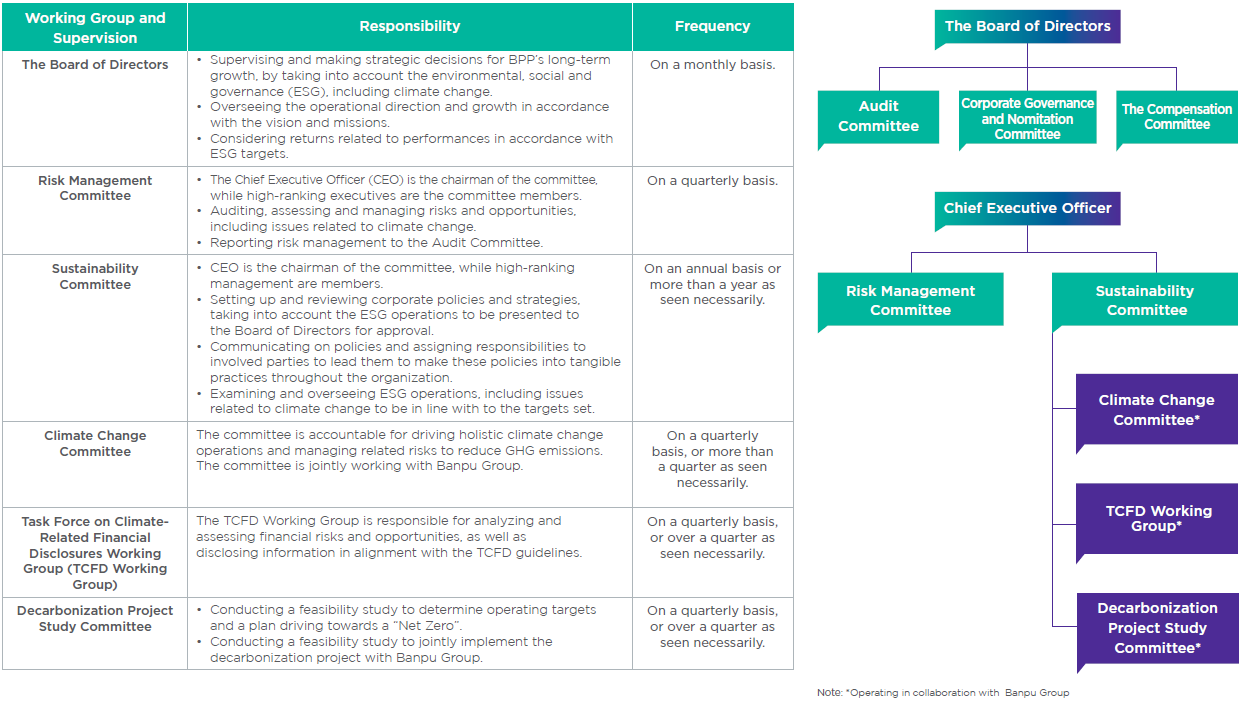 Performance

GHG emission intensity of 0.609 tonnes CO2e / MWh, a decrease of 9.9%, compared to the target set.

An equity power generation capacity of 288.1 MW from renewable energy, representing a 36% progression of its target to have at least 800 MW from renewable energy by the year 2025.
Key Activities and Projects
Document Download
Climate Change Policy