Employee Management
The Company has attached importance to employee engagement. Based on surveys and researches conducted by many human resource consulting firms, it clearly indicates and is in the same direction that the level of employee engagement is significantly related to the competitive advantage, growth, stability, and sustainability, as well as shareholders' returns. The Company believes that taking good care of and maintaining employees as well as making them feel satisfied with their works, inclusive of providing a fair opportunity for their career growth and listening to their opinions for further improvement, will finally create happiness among employees and reduce turnover rate. This will also drive them to continuously improve their works.
The Company has formulated the Employee Relation Policy as a practice guideline for strengthening good relationships with employees. The employee engagement is fostered with 'Say Stay Strive' concept.

The key drivers in persuading employees to engage with the Company are as follows:
1. Agility consists of cooperation and coordination, customer focus, decision making, diversity and inclusiveness, inclusion of infrastructure and resources.
2. Engaging Leadership consists of the leaderships of senior management and superiors.
3. Talent Focus consists of a corporate reputation, opportunities for career advancement, learning and development, performance management, compensation/ renumeration management system, welfares, rewards and recognitions, as well as human resources management.
4. The Work consists of work characteristics and the balance of life and work.
5. The Basics consist of working safety.
The Company has conducted the employee engagement survey every year. The survey analysis result and suggestions from employees will be later used for developing the engagement action plan for both the organizational and departmental levels. In addition, the reporting system was created so as to update management the progress of employee engagement every quarter as well as continually strengthen the employee engagement.
Performance Management
The Company has adhered to three principles of human resources management, consisting of the employee's equality (Equitability), the performance-based management (Performance Base), and the competency management (Competency Base). We have long been supporting collaborative works under diversities of races, languages, cultures, ages, and countries in which the Company has operations in order to strengthen the collaborative works and drive the Company's innovations towards the sustainable business growth.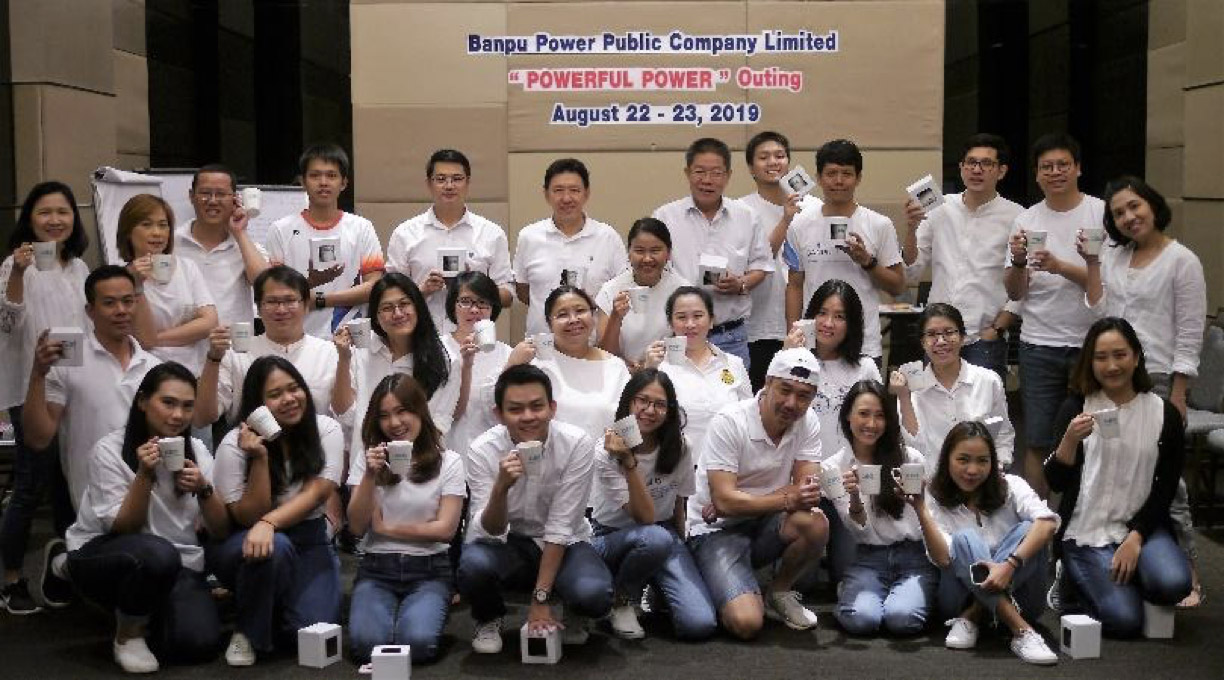 Performance management is an important process driving the organization to achieve its established business goals. It is a linkage between the organizational requirements and each employee's individual working target. It is also an administrative tool allowing superiors to know their subordinates' performances and his/her competency in addition to promoting collaborations among them on setting goals and KPIs together. This has led to the partnership and good relationships between supervisors and subordinates, ultimately escorting to the organizational success.
Defining a clear and tangible performance appraisal system able to measure and evaluate the success of each person is therefore essential. Messages on performance management have been also communicated to all employees for acknowledgement and using it as a practice guideline as follows:
• Defining a fair key performance indicator (KPI) system in order to manage performance in the same direction/ in accordance with the Company's targets. In addition, the Company has revised the KPI scoring criteria divided into two sets, consisting of work-related KPIs accountable for 70% of the overall performance, and corporate cultural behavior based KPIs representing the remaining 30%.
• Improving the performance appraisal standards as the single practice guidance across the organization. This guideline determined that each indicator must have at least one performance evaluation criteria from four criteria, including: 1. Quantity criteria 2. Progress and Time criteria 3. Budget Utilization criteria (Cost) 4. Accuracy and Quality criteria. The improved performance appraisal standards have been communicated to employees for their clear acknowledgement and understanding of the improvement of performance assessment.
• Identifying the key performance indicators beyond their own responsibilities, such as those relating to subordinate management skills. The Company has determined the leadership KPIs for department's managers and up so that they are aware that in addition to managing his/her department's works, paying high attention and caring for subordinates is also part of helping improve the department's performance better.
Performance