Customer & Product Stewardship
Banpu Power has a policy to produce and distribute products with quality and quantity as exactly agreed with customers with realizing that the company's operations have contributed to the stability of the country's electrical system. Therefore, it is a responsibility of the Company in delivering products to meet or exceed customer expectations with flexibility and readiness in adaptation to the needs of customers. Conducting business in good faith will be an important foundation in building the long-term business success together
The Company has five main types of customers, namely:
1) Government agencies, electric state enterprises, or legal entities of which the government is a major shareholder, primary buyers under the power purchase agreement
2) The industrial sector buying steam
3) The trade sector buying cold water used for cooling system in commercial areas
4) Retail customers in the residential areas and communities who buy steam during the winter
5) Companies buying fly ashes
Management Approach
The Company has applied the Quality Management System Standard (ISO 9001) to the production units that require contact with variety of customers, namely, the three combined heat and power plants in China. One of the quality management approaches is 'Customer Focus' of which process is as follows:
1. Understanding needs and expectations of producers and customers
2. Setting operational goals in accordance with customers' needs and expectations
3. Communicating on customer's needs and expectations throughout the organization to create understanding among employees
4. Measuring customer satisfaction
5. Establishing a systematic customer relationship
6. Taking into account the balance in responding to the needs of customers and other stakeholders
The Company has focused on building relationship with customers as partners of achievement as well as giving priority to deliver the sustainable values to all customers by taking into account of four values as follows: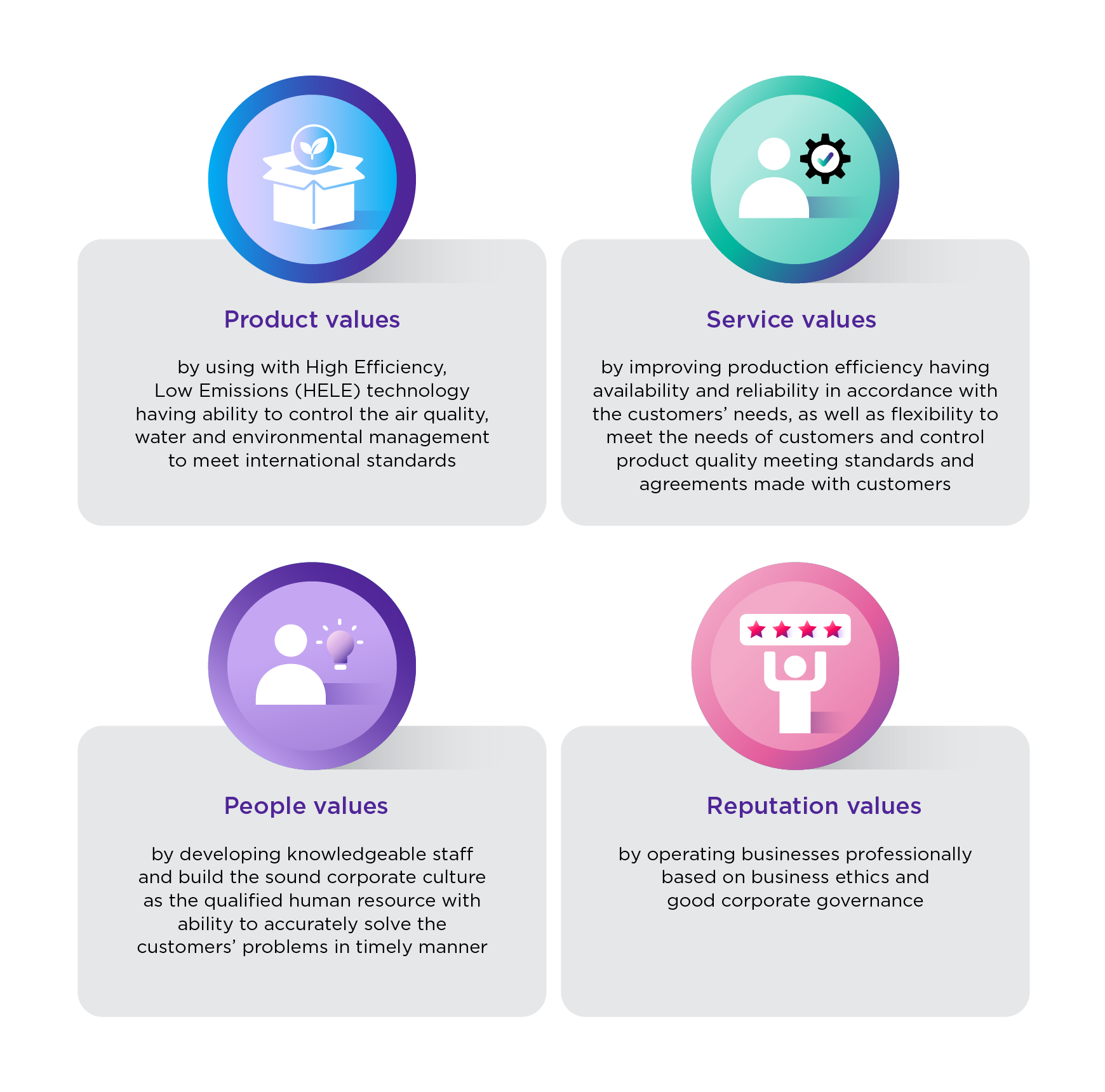 Performance
• The three combined heat and power (CHP) plants in China were able to maintain the availability and reliability according to the needs of customers and correct the complaints in a timely manner.
• No customer complaints related to keeping customer's privacy information.
• No customer complaints related to safety and environment of using products.