Waste
Significance
A conservation and valuable utilization of resources is the best practice guideline to minimize wastes from operations. It can also reduce the waste disposal costs arisen as well.  For the thermal power business, aside from non-hazardous and hazardous wastes generated, there are also by-products created from fuel combustions and air quality treatment processes, including ashes and gypsums.  Both ashes and gypsums can be utilized and added values by selling them as mixtures of construction materials. Additionally, the spillage or improper disposal of hazardous wastes possibly has an impact on the environment and surrounding communities.
Management Approach
BPP has managed its wastes under the environmental policy, using the 3Rs principles, including Reduce, Reuse, and Recycle.  The aim is to achieve a target of zero hazardous waste to landfill and operating in accordance with best the practice standards and legal compliance of each country.
As a result, wastes from the CHP plants have been classified into three types: hazardous wastes. non-hazardous wastes, ashes and gypsums.   The waste management guidelines can be summarized as follows: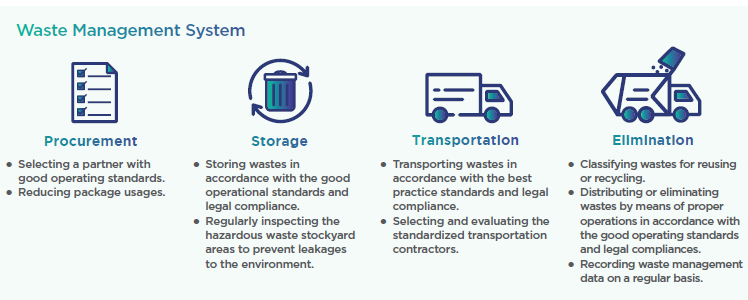 Performance
A zero hazardous waste to landfill.
Non-hazardous waste to landfill is 0.131 kg/MWh, slightly over the target set at 0.13 kg/MWh.
Proportion of fly ashes eliminated by reuse or recycling equivalent to 100%.
Proportion of synthetic gypsums reused or recycled equally to 100%.
Key Activities and Projects
Document Download
Waste Management Policy