Materiality Assessment
Banpu Power has assessed key materiality affecting the sustainable development (SD) while its SD framework has been correspondingly to the Global Reporting Initiative (GRI) and AA1000 AccountAbility Principles (AA1000AP). The Company will specify strategies, goals and clear indicators for key materiality, referring to data collection in accordance with GRI Standards covering environmental, social, and governance (ESG) principles. The Company's significant materiality has been annually reviewed by the Sustainable Development Committee.
Sources of Sustainability Topics
Trends or directions of changes in the energy and related businesses
Related laws and change trends in the future
Current and future demand of customers
Operational strategies and growth
Best practice standards in the power and other related businesses
Operational and growth-related risks
Social and environmental risks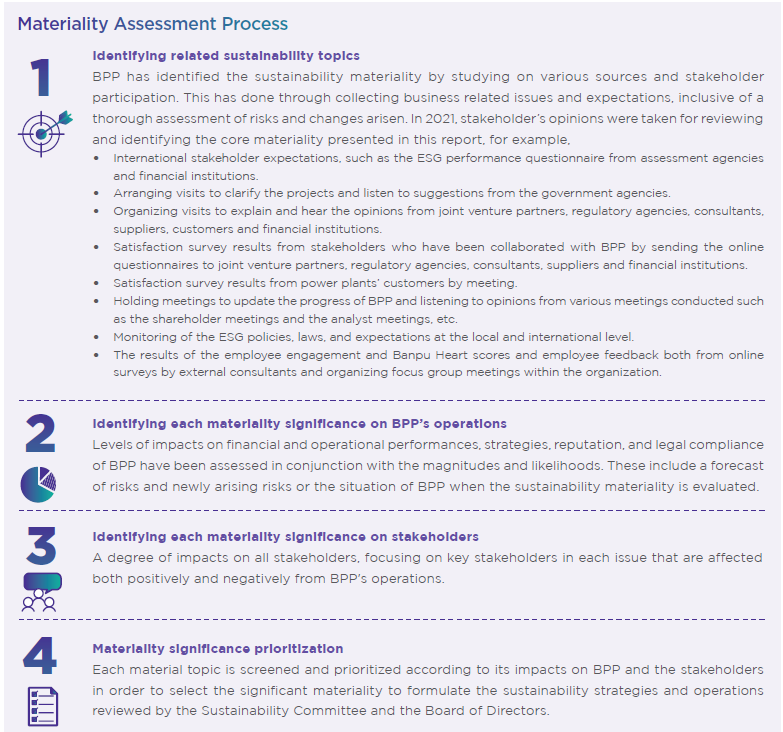 Result from Materiality Assessment
In the past year, BPP reviewed sustainability issues for the year 2021 by the Sustainability Committee and approved by the Board of Directors in May 2021. The assessment results of such materiality sustainability issues were used to define the content of this report.