Biodiversity
Significance
Presently, biodiversity is threatened for many reasons, such as habitat loss, a beyond balance utilization of the biological ecology resources, climate change, threats from invasive alien species and pollutions from human activities, etc., especially those in the areas where high biodiversity is existing.  BPP is well aware of the importance of biodiversity and has commitment to conducting the power business with cautions, taking into account the project's potential impacts in order to prevent and reduce the effects to a minimum.
Management Approach
BPP has laid down the biodiversity management guidelines by avoiding any impacts as the first priority since the beginning of selecting operating areas that do not affect the high biodiversity areas.  We are committed to conducting biodiversity operations as following:
Assessing risks related to biodiversity in all business units.
Conducting a biodiversity study in the project areas possibly having high biodiversity so as to collect data and develop the operational plan to reduce impacts prior to commencing operations.
Taking into account the biodiversity impacts in all project operations' stages, ranging from the exploration, construction, operation phases to the end of project life cycle.
None of business units operating in the areas of the World Heritages and in the protected areas of the International for Conservation of Nature (IUCN), Category I-IV.
Committing to operating projects promoting the net positive impact on biodiversity through following guidelines.:

Avoidance: Avoiding conducting activities possibly causing negative impacts to biodiversity.
Reduce: Reducing unavoidable impacts by setting the operational plan and clear measurements.
Rehabilitation: Rehabilitating the affected areas.
Offset: Operating biodiversity projects in compensation of biodiversity effects.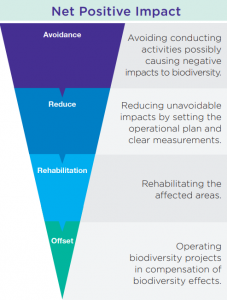 Engaging stakeholders especially the local communities and academic institutions in order to implement the biodiversity conservation projects.
Supporting in biodiversity research initiatives.
Performance
A complete biodiversity assessment in all areas of business units
No business units located in the areas of high biodiversity.
Conducting a biodiversity study in the areas of three combined heat and power plants in China.
Key Activities and Projects
Document Download
Biodiversity Policy