Human Capital Development
Significance
Amid the rapidly changing technology disruption era, developing employees' competencies to be equipped with knowledges and occupational expertise as well as management skills, including promoting their leaderships, are the key success factors for achieving in organizational management. It is also one of the human resources management strategies in response to business expansions and increase competitive advantages.  Consequently, BPP has prepared the comprehensive competency development plans for both executives and employees to heighten their learning ability and working efficiency in parallel with the leadership development plan corresponding to the organization's targets and missions.
Management Approach
BPP has developed the IDP and training roadmap, divided into short- term (annual basis) and long- term employee development courses (according to the business strategy plan), the management approach of which are as follows: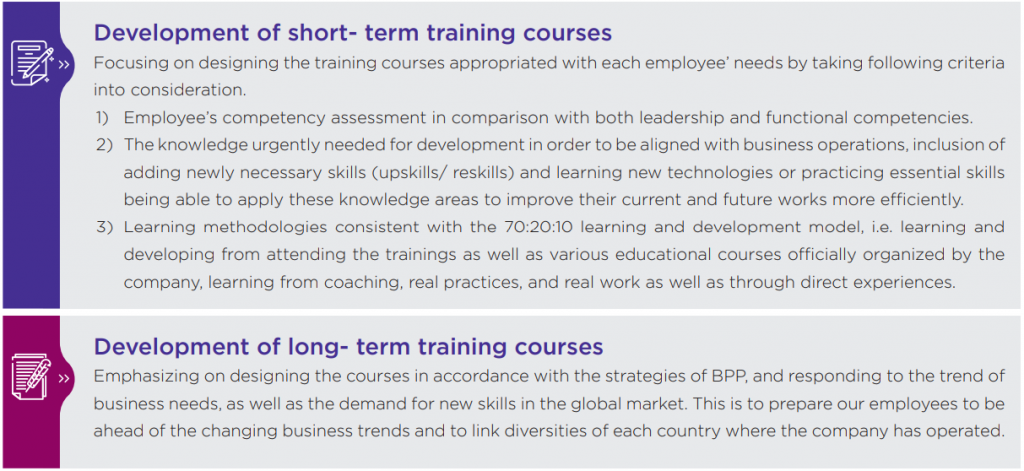 Designing the Employee Development Roadmap
Developing the 'Banpu Group Learning and Development Road Map' by taking into consideration necessary knowledge required for the working system, the people system and the managerial skills. Banpu Power employee development focuses on leaderships and functional competencies.
Improving the leadership competency to be in line with business strategies
Assessing the competency development plan and using the assessment results for regularly improving the employee's development plans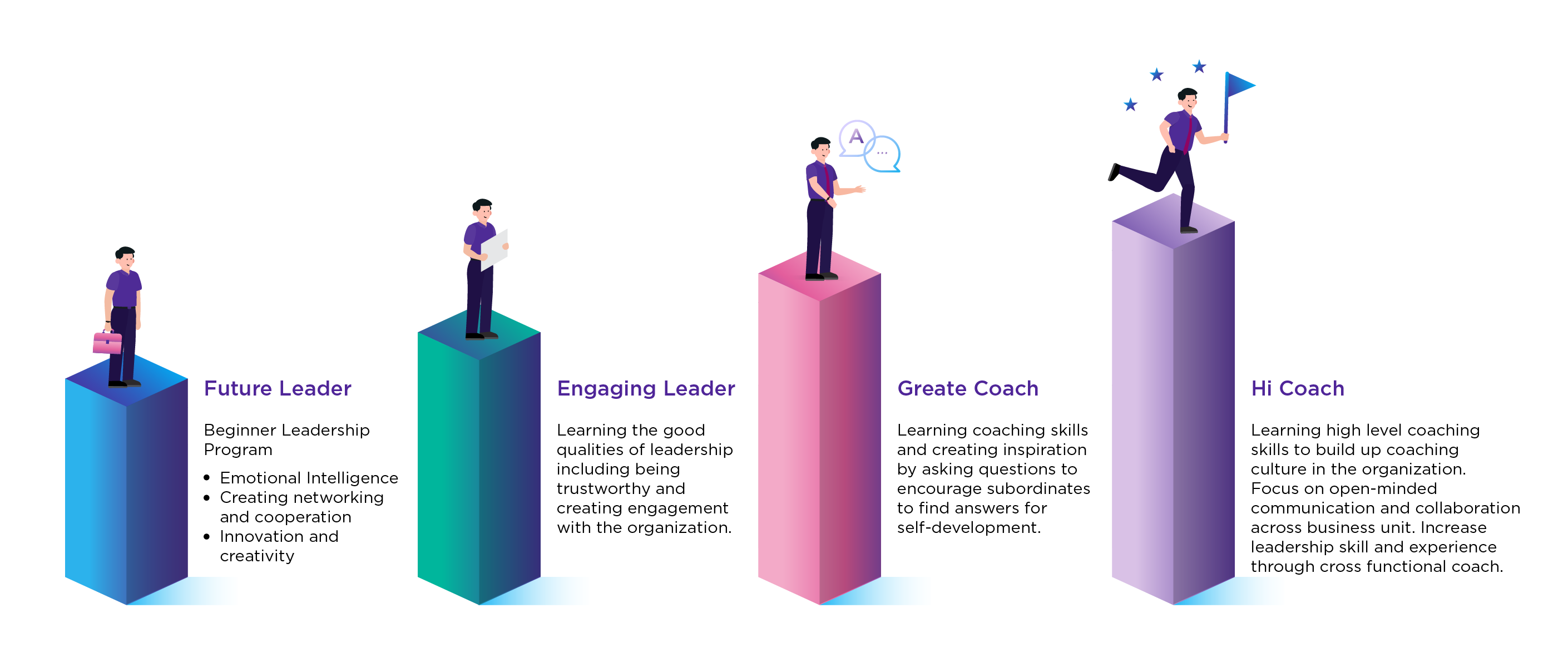 In addition, BPP has also encouraged its employees to learn in various ways such as:
Providing opportunities for employees to gain direct working experiences, e.g., transferring to work in other functions that have work characteristics close to such employee's functions, attending the cross- function projects, and working in overseas affiliates, etc.
Learning through online course platforms that employees can choose the topics they want to learn by themselves. The online learning courses can be used to help develop the potentials of employees and the organization through expanding body of knowledge either from developing original literacies to have more capabilities or learning new things to develop more new skills.
Instilling all employees to realize the importance of continuous learning and development through enhancing the 'Growth Mindset'.
Arranging the 'Knowledge Sharing for Power Business' session by allowing employees to present the topics they want to know so that they understand the ongoing business management.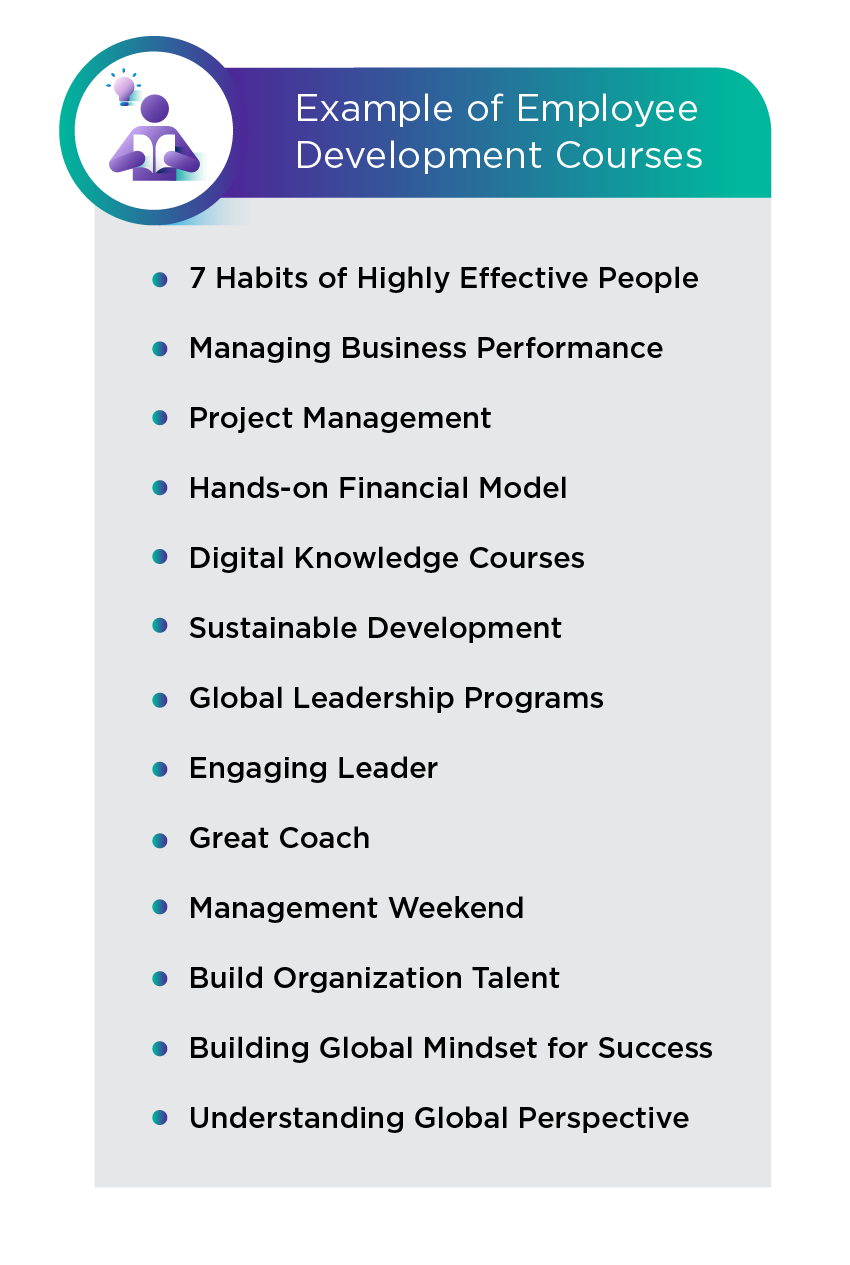 Management of Key Positions' Succession Plan
Establishing the Succession Plan Committee to develop and manage the succession plan for significant positions. The Committee is obligated to prescribe a policy and determine the key and critical positions.
Setting the key and critical profile and developing criteria for further nomination and selection
Nominating and selecting persons who will succeed such positions. Accordingly, the Human Resources Department will work together with the succession plan committee.
Developing, monitoring, and evaluating the individual development plan (IDP) of selected persons. In this regard, the Human Resources Department will work together with the Succession Plan Committee.
Reviewing the key position succession plan in accordance with the Company's strategies as well as identifying critical roles for further developing a guideline for selecting the persons to succeed these positions including a development plan for critical positions. In addition, the succession plan committee meeting has been convened quarterly in order to monitor a progress of such a development plan.
Initiating an assessment for a group of employees identified as high potential human resources according to the international standards
Performance
100% of key positions with succession plans
Proportion of employees having IDPs were as follows:

Thailand: 100%
China: 55%