Banpu Power or BPP Begins Trading on SET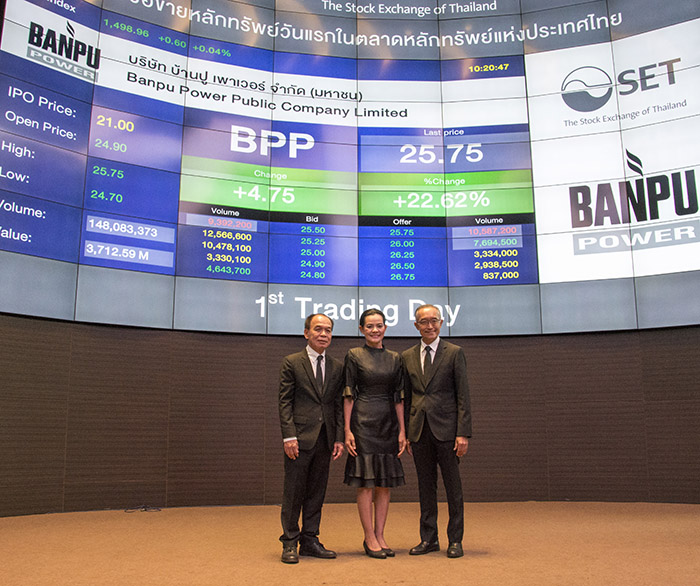 In photo from left to right – Mr. Chanin Vongkusolkit – Chairman of Banpu Public Company Limited, Ms. Somruedee Chaimongkol – Chief Executive Officer of Banpu Public Company Limited and Mr. Voravudhi Linananda, Chief Executive Officer of Banpu Power Company Limited at the First Trading Day of Banpu Power Ceremony under the ticker symbol "BPP" at its initial public offering (IPO) of THB 63.96 billion at Sukree Kaewcharoen Auditorium, 3rd Floor, The Stock Exchange of Thailand (SET), Ratchadaphisek Road, Bangkok. Banpu Power will continue to create sustainable growth aiming to achieve the total equity-based power generation capacity to 4,300 MWe, whereby a minimum of 20 percent will be renewables based by the end of 2025.
About Banpu Power
Banpu Power Public Company Limited operates both conventional and renewable power businesses across Asia, including Thailand, Lao PDR, China and Japan. Nearly two decades of consistent growth and development, the company has always focused on research and innovation to drive production efficiency, while utilizing advanced technologies that are safe and environmentally sound in order to become a sustainable power industry leader at the regional level.